Today, the Centre for Civil Society Promotion signed contracts with three new sub-granting organizations of the Gender Budget Watchdog Network.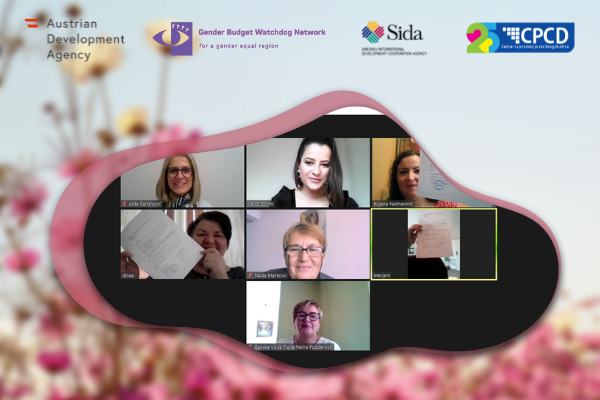 The work of the CCSP, as well as the Network, was presented at the online event, along with the instructions for a successful project implementation of the sub-grantees.

Contracts were signed with the Association Naš Koncept from Sarajevo, CHR ImpAct from Sarajevo, and the Women's Association NERA from Konjic. In the next 6 months, Naš Koncept will work on an initiative that includes allocating a budget line for the procurement of sanitary pads for girls from socially disadvantaged families in the Municipality of Stari Grad Sarajevo. CHR ImpAct will work on implementing the Gender Action Plan of the Municipality Novo Sarajevo, while NERA from Konjic will work on mainstreaming gender into the policies and programs of the Municipality, with special attention to the needs of women from Konjic, such as employment, health, education and the mitigation measures for the COVID-19 pandemic.

Apart from the representatives of the previously mentioned organizations – Merjem Muharemović, Bojana Naimarević and Elvedina Alić, the event was also attended by previous sub-grantees Amela Hajvaz Pozderović (Women's Vision, Tuzla) and Nada Marković (Maja Kravica, Bratunac).
Nada Marković wished good luck to the organizations, emphasizing that the Gender Budget Watchdog Network in Bosnia and Herzegovina is a family, and that they are available to help the new sub-grantees with all issues related to gender responsive budgeting.

After signing the contracts, Elvedina Alić (UŽ NERA) said that:
"it is a pleasure to sign this contract for projects whose aim is to raise awareness about gender responsive budgeting. Thank you CCSP for the wonderful ceremony. A lot of support and a lot of offered hands that we need for the implementation of the project with which we start the wave of gender-responsive budgeting in our city. We are not afraid of challenges, and we are looking forward to the set goals, which must be achieved with such guidelines and support. "

Bojana Naimarević (CHR Impact) added that she hopes that together we will turn to new, positive pages of the Bosnian-Herzegovinian society.