The Gender Budget Watchdog Network has the pleasure of inviting you to our third GBWN webinar titled Ensuring Equality: Gender Responsive Public Financial Management and the role of CSOs that will take place on 26th of January (Wednesday), 2022 from 3-5 pm CET time.
The aim of this virtual gathering is to discuss the PEFA Supplementary framework for assessing gender responsive public finance management and the role CSOs can have in order to enhance the application of this methodology in the Western Balkans and Republic of Moldova.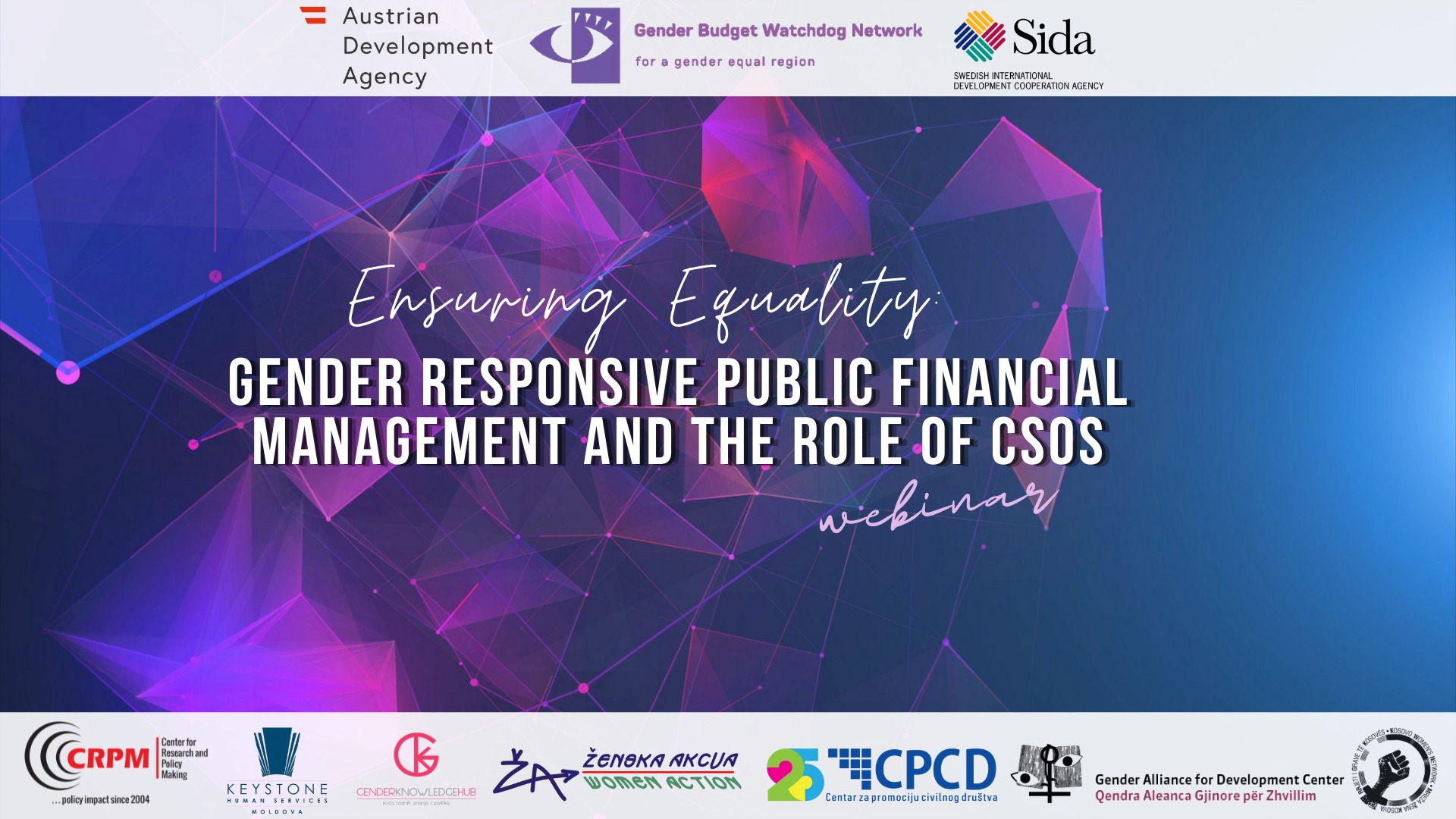 Below, we present you the speakers as well as the webinar's agenda.
Time

Speakers / Affiliation

Theme

3:00-3:10

Representative from GBWN /  CRPM

Opening remarks

3:10-3:25

Representative from PEFA Secretariat

Presentation of the PEFA supplementary framework for assessing gender responsive public financial management (GRPFM) and its nine indicators set;

3:25-3:40

Representative from World Bank

Application of the PEFA supplementary framework – lessons learned and what could be the role of civil society?

3:40:3:55

Representative from NIRAS Development Consulting

Entry points for using PEFA framework as a platform for reforming and engendering Western Balkan and Moldova's Public finance management systems;

3:55-4:10

Representative from European Women's Lobby

Women's organizations as possible watchdogs of fiscal councils using GRPFM supplementary framework – what adaptation is needed for it to be used by CSOs in monitoring?

4:10-5:00

Q&A session; closing remarks
In order to attend the webinar, we kindly ask you to pre-register at the following link https://us02web.zoom.us/meeting/register/tZcrcOioqD4rHNWRTQiL7Q1QFtdulRFuayVT; once registered, you will receive an actual ZOOM link that will take you to the webinar zoom platform.
In case of additional questions or inquires, we are at your disposal at simonovski@crpm.org.mk
Best regards,
GBWN team