We are pleased to invite you to a Gender Budget Watchdog Network webinar on the topic of Gender Equality and Climate Change.
The webinar will be held on July 13 in the period from 10 AM to 2 PM (CEST) via Zoom platform.
The webinar aims at:
Increase understanding of linkages between gender equality, gender transformative actions and climate change response
-Discuss the approach to gender responsive budgeting watchdogging in climate change actions funding
-Explore CSOs' intersectoral cooperation possibilities in the WB region.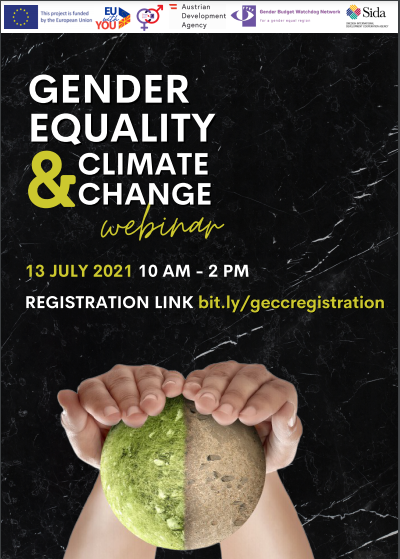 You can register for the event at the following link:
https://bit.ly/geccregistration
You will receive the Zoom meeting details upon your registration, as well as a detailed agenda prior to the event.
Interpretation from English to all of the local languages and vice versa will be provided.
If you have any questions or concerns, feel free to contact me or any one of my colleagues from the regional GRB hubs.