On March 12, as a part of the International Women's Day campaign, the Centre for Civil Society Promotion organized an online discussion on the topic of Women's Leadership Stereotypes via Zoom.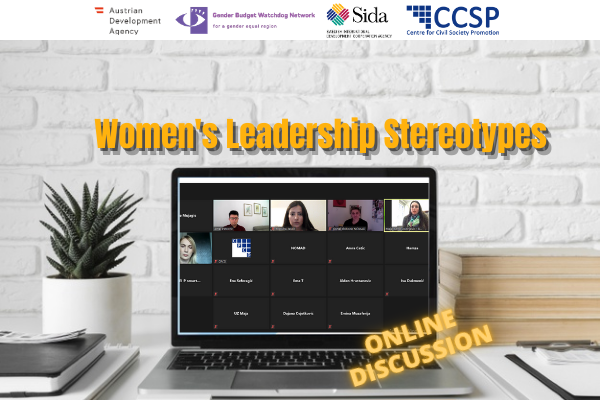 The moderator of the mentioned discussion was Amel Petrović, while the project manager of Gender Budget Watchdog Network project, Mersiha Jaskić, made a short introduction about gender stereotypes. The main participants in the discussion were Edin Zubčević, editor of Nomad magazine, and Maja-Isović Dobrijević, journalist at BUKA magazine.
26 participants were given the opportunity to listen to a very constructive discussion and were given space to voice their opinions on this topic, the problems they face and to provide suggestions for a solution to the problems caused by gender stereotyping.
Focusing on women's leadership and the issue of gender (in) equality, we talked about the stereotypes women in the Bosnian-Herzegovinian society encounter and what are the practices to combat stereotypes. One important aspect of the discussion was also how men and women have the ability to work together to remove stereotypes, particularly those about leadership.
"We have women parliamentarians, ministers, and presidents in position, but their policies are still primarily men's policies, answering the needs of men" said Maja Isović-Dobrijević. She added that gender equality needs to be written and spoken about, regardless of the fact that such topics sometimes do not attract the attention of readers, but they are socially responsible.
Edin Zubčević said that the number of women in management structures is not huge, but the amount of those who really make decisions is even smaller. Zubčević added that "it is important that women first of all gain economic independence, that is the basis of the fight for equality."
"This discussion is a relaxed conversation on a Friday afternoon, and it talked about a topic that is very important. Meetings like this are necessary, because degradation of individuals through discourse is often allowed in Bosnia and Herzegovina, on all grounds. You have used the winning formula in organizing this event – an informal conversation that is interactive and tackling an important topic. I liked the concept and just keep on with the good work" said Satko Mujagić, one of the participants, currently working for the European Commission in Brussels.
At the very end of the discussion, the moderator Amel Petrović asked the question whether the future is female. Attitudes were different, but a unanimous conclusion was made:
we are ready to make the future gender equal together.